Ludmila, 31 y.o.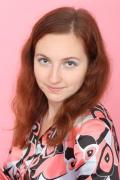 First Name:

Ludmila

Age:

31

Location:

Russia

Zodiac Sign:

Sagittarius

Weight:

59kg

Height:

168cm

Eye colour:

Blue

Hair colour:

Auburn/Red

Body type:

Slim(slender)

Smoking Frequency:

Never

Drinking Frequency:

Occasionally(Socially)
Language:

Russian 5 (Fluent)
English 5 (Fluent)
German 3 (Intermediate)

Marital status:

Single

Want children:

Yes

Education:

Graduate degree

Job Title:

Journalist

What religion do you practice?:

Christian
How would you describe yourself?

My name is Ludmila. Im 24 years old. Im blond. High – 168sm and weight 58kg, but its just outside cover, under which hided intelligent, tender, passion and loving woman.
I live in Moscow. I love this life, people, my relatives, friends. Life is beautiful in all expressions of it. But for the full happiness I need my man, my one-half fraction man, with which we would create our happy and loving family. In the modern life its getting to be difficult to meet the real love, but i believe – ill surely meet my love.
I have high education.
In a free time i like dance, cooking, read the books, meet with friends, go in for sports.
I don't smoke. I drink alcohol just in holidays.
I have Christian faith, but I believe that God is just one, but every nation interpreting that in his own way.
I never been married before and I haven't children.
Im heartfelt believe that every person has his own one-half fraction and I really want to meet my one.

How would you describe your ideal partner?

I looking for man at the age from 28 to 40
Its not important which nation will have my man. Important for me that he will be ready for family creating, which want to have children.
He is loving, intelligent, he can love the woman which will be next to him.
And I know that my man will be the most happy man in the all Universe.
One man is a person, but two people - is a whole world. I want harmonies, beautiful and loving world.